Dental x-rays, or radiography, has greatly enhanced the way we, as veterinarians, practice veterinary dentistry. So much of dental disease, such as periodontal disease, tooth root abscesses, jaw fractures, tumors, etc., occurs below the gumline, that dental radiography is an absolute necessity to practice veterinary dentistry. Dental radiography allows for diagnosis of certain diseases, plan for the appropriate treatment as well as monitoring for treatment success.
The relatively recent introduction of digital radiography has further advanced this diagnostic tool. Digital radiography has the advantages over conventional film radiographs in that it uses approximately 1/3 of x-radiation to create the image, the ability to enlarge the image to see small changes, increase or decrease contrast to help small lesions show up better, archival of images on a hard drive or back-up disc, easy retrieval, and the ability to print the images for client education. Digital radiographs are also quicker to take and develop. Usually a radiograph of an area can be "developed" within 5-7 seconds, where dental film radiographs take generally one minute each. Digital radiographs have the added advantage of being easily e-mailed if needed for referral or communication with referring veterinarians. Conventional dental film radiographs have the advantage of better resolution and can serve to evaluate larger areas than can be done by digital at this time
'The Pet Dentist' - Location, Map, Directions. Offices serving greater Tampa Bay, Clearwater, St Petersburg, Brandon & Bradenton :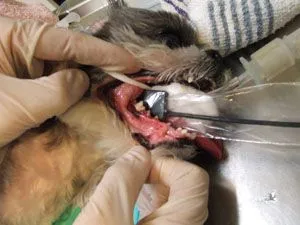 Digital radiographs require a sensor to capture the image.
At The Pet Dentist, we have the capability of doing either digital or conventional film radiographs. We typically use digital radiographs for their speed, ease of archival, and printability. We prefer to take full mouth dental radiographs as studies have shown that many lesions can be detected with full mouth dental radiographs than would be otherwise detected on oral exam alone and print copies of these radiographs for clients.
Listed below are some of the indications for taking dental x-rays:
Periodontal Disease : use them to show bone loss around tooth roots. (Consider extracting those with >50% attachment loss).
Broken Teeth: Look for signs of root tip infection.
Discolored Teeth: look at pulp chamber and signs of root tip infection.
Suborbital swellings: look for root tip infection or cystic teeth.
Resorptive lesions: use them to decide if there are roots to be extracted or if periodontal disease is present.
Oral tumors: look for bone involvement.
Pre and post tooth extraction: be sure all roots are gone.
Missing Teeth: check to be sure they aren't below the gingival.
Oral surgery: oral fractures or margins for oral tumor surgery.
Full Mouth Series : Offer this as an elective service for your clients if not doing so already. Make sure all teeth, roots, and bone appears healthy.